The college has a separate building for library.
First RFID enabled library in Anand district.
The library is named after its donor Shri Chandubhai Patel, Alumni (1969) of the college.
The college library is a rich and well endowed one with a total of 52091 books.
It subscribes 32 periodicals and magazines and 7 news papers.
The library is enriched with INFLIBNET N-LIST facility providing access to 31, 35,000 e-books and 6,000 e-journals to faculties and research scholars, Students.
The library has a book-bank facility. Under this scheme the textbook of various subjects are given to students throughout the year.
The library is fully computerized with INFLIBNET SOUL 2.0 Software. It is fully computerized and all the books are circulated with barcode system. Due to this process,books circulation has become faster. The faculties and students have been issued I-D card with barcode.
The library building has facilities of photo-copying.
The library building has a large reading room with a seating capacity of 150 students. Ten computers with NET connections have been installed in the Reading Room.
This year many books for competitive examination such as: General Knowledge GPSC, IPS, IAS, Defense, LIC, Banking, Railways etc were purchased.
A Swami Vivekananda Corner has been setup in the Reading Room that houses spiritual and religious literature.
The departmental library section provides additional quick reference facility to each department for faculties and students.
Library RFID System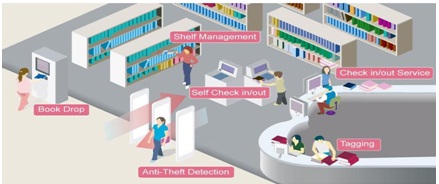 Only college in the entire campus to have RFID System.
Fastest, easiest, most efficient way to track, locate & manage library materials.
Efficient Book circulation management.
Self Check-in and Check-out.
Library inventory tracking in minutes instead of hours.
Multiple books can be issued, returned & renewed simultaneously.
Unique ID of the RFID tag prevents counterfeiting.
Automated material handling using conveyor & sorting systems.
Facilitates inter library & intra-library borrowing.
Services Offered in the Library
Library is an open access.
Departmental library
Fully computerized with barcode technology
Book bank
Old exam paper & syllabus
UGC INFLIBNET College N-LIST facility
News paper clippings
Reference services
Library Area
Total area of the library (in Sq. Mtrs.):
315.31 sq. mtrs Lower floor
315.31 sq. mtrs upper floor
Reading Room
Total seating capacity: 150
Library Timings
| | | |
| --- | --- | --- |
| Reading Room : | Monday to Friday | 10.00 am to 05.15 pm |
|   | Saturday | 08.00 am to 12.00 pm |
| Circulation / Reference Section : | Monday to Friday | 10.30 am to 05.00 pm |
|   | Saturday | 08.00 am to 12.00 pm |